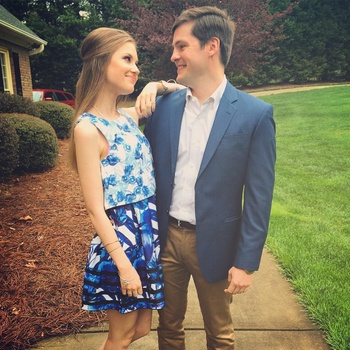 Rachel and Jay's first date... was at Amelie's Bakery in NoDa. It was October 11th, 2015. A Sunday morning. They decided to meet for coffee and brunch. Jay was a cool 15 minutes late and Rachel ordered brunch and her signature latte without him... but fortunately they hit it off and spent 2 hours chatting away!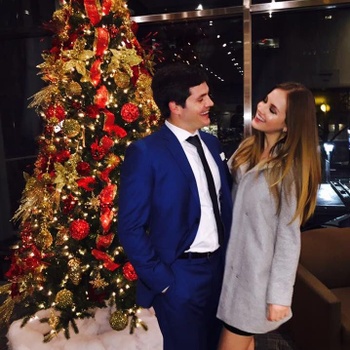 Rachel and Jay have an annual tradition of seeing the Nutcracker every year right before Christmas in uptown Charlotte. The Charlotte Ballet and Charlotte Symphony host such a wonderful performance that it's nearly impossible not to get into the Christmas Spirit!  This picture was captured on their very first Nutcracker (in 2015) together and on the eve before flying out to New York City for their first trip together. While in NYC, Rachel and Jay saw Aladdin on Broadway.  You might see some Aladdin favorites at the wedding ;)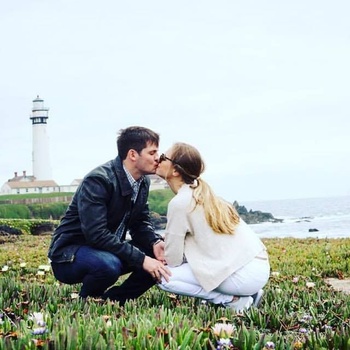 Rachel's father is a retired airline pilot. For a while, Rachel could fly "non-rev" along with Jay when he traveled for work. In 2016, Rachel and Jay went on a work trip to San Jose, CA. They rented a car and drove up the Pacific Coast Highway from Santa Cruz to San Francisco. They saw the sights and even managed to snag San Francisco's world famous cruffin!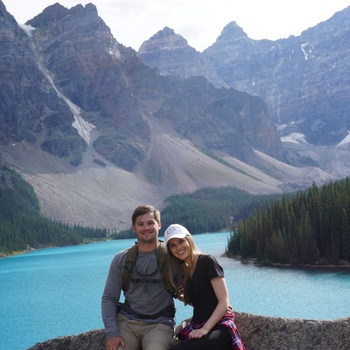 In 2016, Rachel and Jay traveled to Saskatchewan and Alberta, Canada, for the wedding of Jay's cousin Adam and his wife Tara, a family reunion, and a little bit of R&R. This trip was so special because it was the last time Jay got to see his grandfather, Cliff Orth, and Rachel got to meet him before he passed away on November 16th, 2016.

Grandpa Cliff was loved completely and he is missed dearly.

After the wedding and reunion, Rachel and Jay visited Calgary, Banff National Park and Jasper National Park in Alberta. They saw more mountains than most get to see in a lifetime. They even spent a night at Fairmont Chateau Lake Louise. They hope to go back!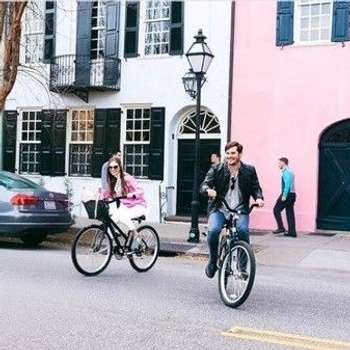 ...and we couldn't leave out Rachel and Jay's trips to Charleston! Being in Charlotte, Charleston is a mere three hour car ride away. Filled with so many beautiful buildings, gorgeous low country views and delectable restaurants, Charleston is a favorite destination for Rach and Jay.
No love story would be complete without time spent in Texas! Jay is from Southlake, TX, which is between Dallas and Fort Worth. Rachel has joined Jay on two trips to Texas: the first was Jay's ten year high school reunion and the second was the wedding of Rachel and Jay's friends Skyler and Kristi Herring. This picture was taken at Skyler and Kristi's rehearsal dinner.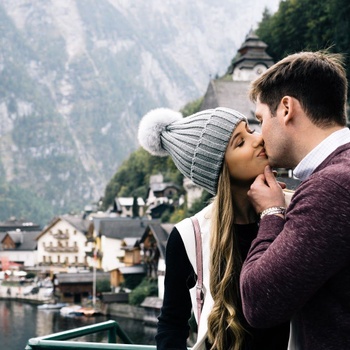 In Fall 2017, Rachel and Jay had the great fortune of visiting Bavaria, Austria and the Swiss Alps. They toured Oktoberfest (where Jay woke up with a mild headache and loss of memory) in traditional lederhosen and dirndl, sipped Viennese coffee at Cafe Central, toured the Orth Castle (perhaps built by Jay's long lost relatives), woke up in an 18th century mansion, stayed in the fairytale village of Hallstatt, and climbed to the top of the Swiss Alps. 

While on the trip, Rachel and Jay traveled completely by train and bus. When traveling from the village of Hallstatt, they missed their train in Bad Ischl stranding them at a bus stop in the middle of Austria. After a few taxi rides and bus rides knowing little German, they made it to Salzburg 12 hours late.  

And they'd do it all over again in a heartbeat to relive that trip again!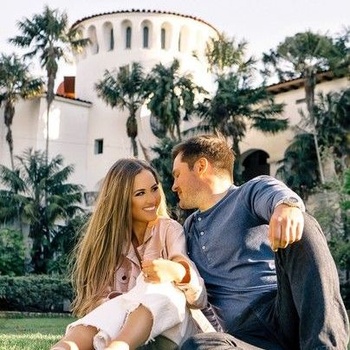 In early 2018, Rachel accompanied Jay on one of his work trips to Las Vegas. After his conference, Rachel and Jay rented a car and set out for the desert to the West! They stayed in Santa Barbara and Beverly Hills, CA. They soaked in the warm sun and the salty air.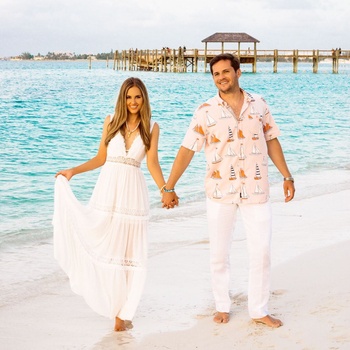 Most recently, Rachel and Jay visited the Bahamas in June 2018. They celebrated Jay's 30th birthday and enjoyed the company of Skyler and Kristi Herring. They fed the pigs in Exuma, Jay dove with sharks, and Rachel FINALLY learned how to snorkel. Jay can't wait to coax her into scuba diving!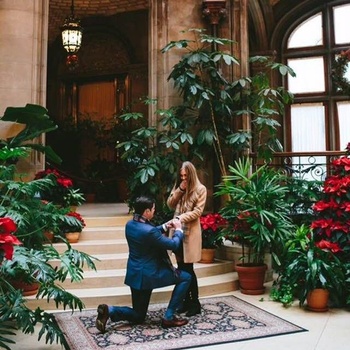 In Rachel's words...

Around a month before Jay proposed, he called me and told me that he booked a spa weekend for us during Christmas Eve weekend at the Grove Park Inn in Asheville, NC. Initially, I was a little hesitant because we wouldn't be coming home until Christmas Eve, which has always been an evening of celebration for our family, but was I really going to pass up a spa weekend with my man? ;) 

We arrived at the Grove Park, which was filled with Christmas carolers, gingerbread houses, Christmas trees, and massive fireplaces. The atmosphere immediately filled me with the Christmas spirit, and we enjoyed a nice dinner together at the hotel before we went to bed. The next morning, we woke up and enjoyed a couple's massage and all of the spa amenities before we had to get ready to go to The Biltmore House, which is ultimately America's version of a castle.


When we arrived we were told that we were going to receive a grand tour of the house and get to see things that most people do not get to see on the basic tour. Being a blogger, I was like "Ahhhhh this is so exciting!! Can I take pictures?" Our guide smiled (a bit mischievously, I must add) and said that I could. He led us directly to the winter garden in the center of the room and everyone in the house gathered around wondering why we were in a roped off area in the house. I started to take a picture of the beautiful poinsettias and greenery surrounding us when Jay pulled me aside and told me that he wrote something for me for Christmas. He read me the most beautiful and poetic letter, and about halfway through I realized he was proposing and the waterworks started! When he got down on his knee and asked me to marry him I screamed, "YES!" The crowd that had gathered around us starting cheering enthusiastically, and I noticed that some people were even recording us on their cell phones. We were probably the stars of several snapchat stories that day haha!



After Jay and I had our blissful romantic moment I realized that I had not even looked at the ring that he put on my finger. When I paused to look my mouth dropped as I gazed at my dream ring (insert heart eyes emoji here ;)).
Little did I know, there was someone there to capture our special moment, and we were immediately led out on the estate grounds to take our engagement photos.


I had chipped my nails at the spa that morning and we had walked in the rain on our way to the Biltmore, so my nails were not picture perfect and my bouncy curls turned into a straight frizzy mess. Every girl dreams of looking perfect for that moment, but let me tell you, it does not even matter! All I cared about was the special moment with the man that I was going to spend the rest of my life with.


After our photoshoot, we relaxed with some warm cider and bought an ornament to commemorate our engagement. I was so excited to call our families and friends to fill them in on the excitement, but Jay would not let me! I couldn't understand why, but he said it would be so much more exciting to tell them tomorrow at the Christmas Eve party. Little did I know, Jay had more surprises planned for the evening.


I reluctantly agreed and then we left to go to his friend's Christmas party at The Inn On Biltmore Estate. Jay's friend had texted us a month ago inviting us to a party there that evening, which is why I wasn't really expecting for Jay to propose to me that day.


When we arrived at the Inn, Jay led us to a private room where the party was supposedly happening, but when I opened the door it was silent and I couldn't see anyone, so I assumed we were walking into the wrong room. Then all at once I heard, "SURPRISE!!!" and both of our families were there along with my best friend, Emmy, and the same photographer that was taking photos of us during our engagement. Let me tell you, the waterworks started AGAIN as we hugged our loved ones, and my bestie was jumping up and down screaming when she saw my ring - haha! Jay also had Emmy take me to get my nails done earlier in the week for the engagement, which I also didn't suspect because she was a bridesmaid for a wedding that same day.



We then sat down to the table for champagne and a four course meal with personalized menus that read, "Ward Proposal Dinner". After the dinner we all celebrated and enjoyed each other's company with drinks until around 1am, and then continued the celebration by surprising the rest of our family over Christmas Eve and Christmas Day.